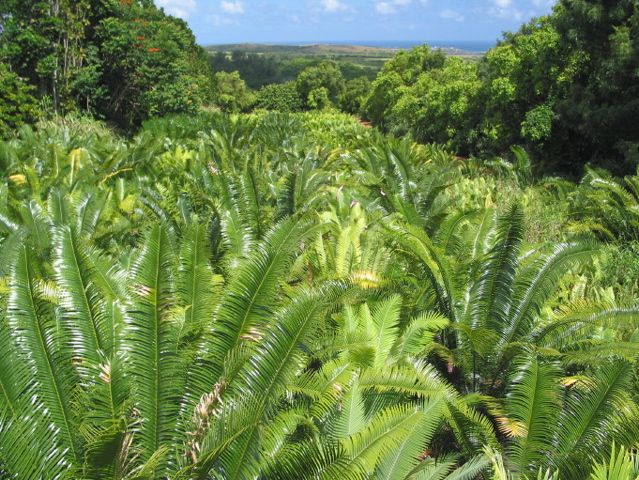 Welcome to Hawaii's greatest selection of cycad species located on the Island of Kauai. Pacific Cycad Nursery was founded as a research nursery in 1992 by myself Greg Holzman to help with the understanding of cycads and cycad horticulture in a sub-tropical setting like Hawaii, which has been found to be the most ideal growing conditions for the majority of cycad species in the world. With close to 300 species in the world there is a huge reservoir to choose from.

I have taken some of the most beautiful and hearty species and tested these for there landscape qualities giving us a wide range of cycads to use in landscapes here on our beautiful islands.

I got tired of seeing the same plants in landscapes. So I decided to make my cycads available for the general public here in Hawaii. Of course there have been cycads in landscapes since the beginning of the twentith century in Hawaii which have been known as "Sago Palms" ,"Dwarf sagos", "Queen sagos" and "cardboard palms"

These are not palms but because of there look that resembles palms they were labled as a palm. Cycas revolute, Cycas rumphii, and Zamia Furfurecea are the three commonly used cycads in Hawaii. The Cycas have been used from the late 1800's when they were brought in from Japan and the Phillipines, These were a big hit and revered for there long living tough tropical look.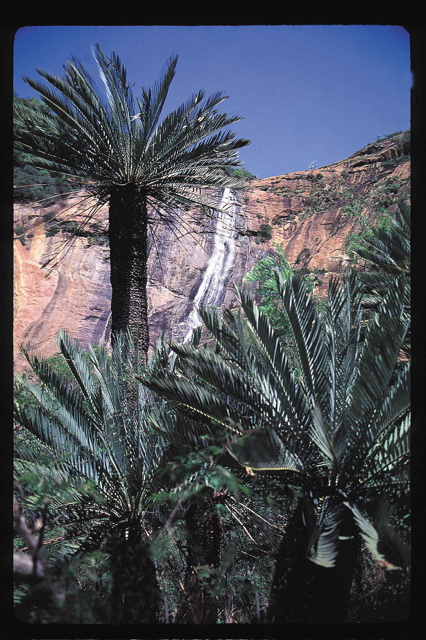 In the late 1980's I went to South Africa and discovered the world of cycads was much a more full and diverse plant group then Hawaii had ever known. Other then Foster Gardens and a few private gardens there were no exotic cycads other then the common three in the islands. I was determined to change this and started to work at National Tropical Botanical Gardens as cycad curator where I collected over 100 species of cycads for there collection. I also pollinated many cycads and began growing the seed which I have grown for 15 years now. These beautiful plants are now available from my nursery. I welcome visitors to my nursery to come and experience the amazing beauty of cycads which I hope will someday blend into the landscapes in Hawaii much as the "Sago Palms" have for over 100 years.
On this web site you will find an amazing assortment of the rare and the beautiful. I promise to have something for everyone who enjoys plants from the soft massive Lepidozamia's and the dainty Bowenia's to the fierce Encephalartos and the primitive Dioons. Take a look and see what you like then give me a call or an e-mail and let's see if we can't get together for a tour. For outer islanders we can e-mail photos of plants which you might be interested in and have them shipped over to you. No cycad is too big to move so we are a full service nusery. We also have equipment to move and plant these in your area. I am available for consulting and enjoy coming to your homes and helping to design a excotic feature garden wich you will be proud of. I hope that though this site I can educate Hawaii's plant lovers and landscapers to the beauty and diverse tough attractive nature of this wonderful group of plants.